Queens of the Stone Age stopped in El Paso, playing at the Abraham Chavez theater on February 11, 2014.  If memory serves me, they had only been here once before, in support of Songs for the Deaf.  I didn't go then and was quite surprised that they were coming back in support of …Like Clockwork.  I didn't want to miss this one, so I snagged a couple of tickets as soon as the pre-sale was announced.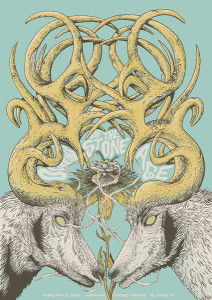 They opened with the fast paced "You think I ain't worth a dollar but I feel like a millionaire".  That song still packs a punch even without Nick Oliveri on lead vocals.  From there it was a non stop assault.  Queens is a pretty tight band, and one of the few whose songs you can count on sounding excellent live. Josh Homme's vocals have been the constant through the bands revolving door lineup over the years.  I would wager he's one of the current top rock vocalists.  No auto-tuning or trickery required.
The Chavez is a medium sized venue, pretty much every seat gets you a good view.  QOTSA played like they were in a stadium though, it was LOUD.  Three songs in I had to resort to ear plugs (I'm old, I know.)  They slowed mid-way for the title track off the latest album, which I've posted a clip of below:
(Turn the volume down, its quite loud even on the slow parts)
The show lasted about an hour and 45 minutes and they did not disappoint.  They came out for an encore and on the last song they literately brought the set down.  Shortly after the start of the last song, Song for the Deaf, Michael Shuman knocked his amp stack to the floor, leading Homme to pull the drum kit down. Rock n' Roll baby!
If they come again I'll definitely catch them next time.  The Sun City has finally been getting some acts worth seeing.  With last year's NIN, and upcoming Old 97's in May I guess IT IS ALL GOOD EL PASO.
Here are some more crappy cell phone pics from the show: QOTSA on flickr