After setting up at the Art Market, I wandered off again to capture some more pics of buildings and such downtown.  Early Saturday mornings still project a eerie ghost town feel, the only exception being the shopfronts that are readying to open for the day.  The lone Starbucks downtown is closed on Saturdays so, NO LATTE FOR YOU!  I did notice that one building on Mills Ave, that used to house Arby's many years ago, now has a new facade.  It's a bit disappointing to see the owners went with a mirror treatment and not something more in keeping with the architecture of downtown.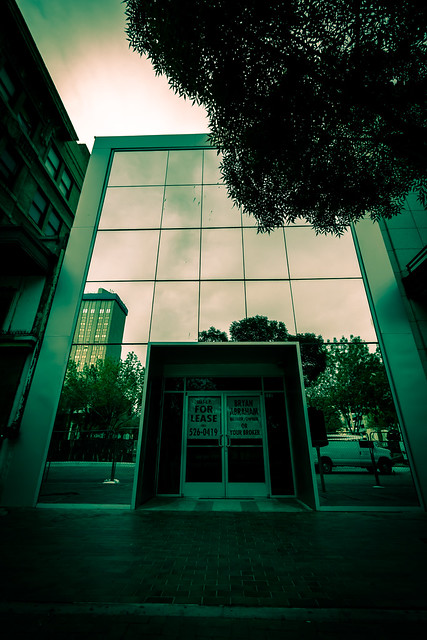 I guess it will make it easy to keep clean:) The Banner Building next door still has it's period  charm though:
The Banner had a McDonald's in it, like.. forever! I guess once the buses got moved from San Jacinto plaza, there was a big drop in business and they have since vacated.  The Banner is interesting because it has a lot of little office spaces in it, mostly vacant now:
There's a large notification that the Banner is getting remodeled, maybe timing for the re-opening of San Jacinto plaza.  It would be cool to see it return to a hub of activity, with lots of neat little shops and offices or something.   Hopefully they will retain some of its old timey aesthetic.
 I passed a closed jewelry/ watch repair place but i'll save that for another post…